Re-Brand
We have re-branded. Learn more about our new look and the changes below...
Arki Construction, Inc. | Re-Branding
Seventeen years ago, Arki Construction, Inc. was established in Coral Gables, Florida and offered design services for well-known architectural firms and developers. The company later established itself as a small design/build firm that offered its services to local clients and strived to marry the design team with the building team to achieve a unified delivery mechanism that better suited its clients on the costs and the timeline. In 1999, the company established its presence as a true design/build firm in South Carolina, the Beaufort County and the Hilton Head Island markets. Later in 2002, it re-launched in the South Florida market and gained a fair share of the market during the recent construction-boom-era. Arki Construction, Inc. now finds itself serving a host of national-accounts clients in the South-Eastern States where it led to its recent expansion into the State of Georgia.
With all new indications that the Construction Industry is on the re-bound, Arki Construction, Inc. has embarked on re-branding its identity to better position itself, serve its customers and present its website ARKI.COM as a modern regional contender all while maintaining a "local-level" of service and attention our customers have enjoyed experiencing over the past years. Arki Construction, Inc.'s immediate agenda is to emphasize its engagement within its local markets (currently South Florida, the Beaufort County and the Hilton Head Island areas, and Atlanta's Metropolitan area and its surrounding Cities. In addition, Arki Construction, Inc. will continue its endeavors to serve its National Accounts in any market locations within the South-Eastern nine States, all while maintaining a personable and close level of interactions and attention to each client's needs and goals to achieve.
Our logo has evolved into a new one that represents clarity, focus, stability and modernism. The colors black and "construction yellow" are our new colors of identity. The "construction yellow" represents prudence, safety and vision. The name Arki stems from one of our parent companies Arkiteknic which is a synonymous for Architectural Technology. It is also known as Building Technology which encompasses and provides building design services and solutions in building design and construction. The profession of Architectural Technologist would resemble a good comparative to our ideology and methods. The new logo is a representation of modernism, capabilities and a high level of performance. Our Logo and the Name are Registered Trademarks.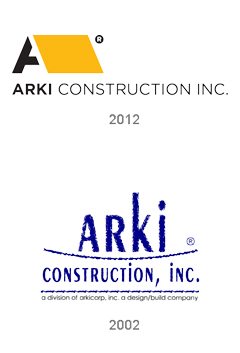 www.arkiconstruction.com has moved to www.arki.com
We have added "State-of-the-Art" sections to our website to better service our Clients and our Valued Sub-Contractors alike.
Featured Improvements are:
ARTICLES – Included is an Articles section that will be rich with relevant contents, stories, knowledge base and many more categories for your readings on subjects that may be of value to you.
NEWS – A News section was added to deliver to you up to date news in the Construction Industries for each of the Locations we are established in. The news page can be accessed anytime at www.arki.com/news
DOCS – There is a Document System that was implemented to better control and distribute Bid Document Plans and Project Documents in one centralized location. We have added an ARKI DOCS system that can be accessed at www.arki.com/docs. If you have not registered for a user account, you can easily register if you are a Client with an active project, or a Sub-Contractors interested to participate in our Bidding Projects.
BID ROOM – A Bid-Room is in place and will be improved over the coming month to facilitate the bid process for both, the Clients and our Sub-Contractors.
LIVE CHAT – Live Chat and Customer Support via the web. The ability to connect in real time with any of our staff via the web to ask any questions and get an immediate response. Live Chat is active and can be accessed from any page within our website. Try it today!
CLIENT'S PORTALS – Each Client will have their own portal to show project progress in pictures, video and aerial photography. In addition, the portal will have a section to house all the project documents for ease of management and access.
And many more are planned and will be made available periodically.
The website is made available to you using the latest technologies available and it is Mobile Friendly. You can easily access it via any mobile device including all of Apple's products. We welcome any feedback you can share with us and encourage you to please tell us what you think and how else we can better serve you as our Visitor online.
Any and all usernames@arkiconstruction.com have moved to usernames@arki.com accordingly.
We encourage you to update your Contacts Lists and Directories to reflect this change.
Arki has expanded its presence in the South East to better serve its national accounts and meet the growing demand for consistent quality and deliverability of its Client's projects throughout the region. Currently, Arki Construction, Inc. is licensed and operating in three States as follows:
Florida
South Carolina
Georgia
Arki Construction, Inc. has already put in motion the steps necessary to establish its presence in the following states as well within the very near future:
North Carolina
Tennessee
Arkansas
Louisiana
Mississippi
Alabama
Our distant plans are to offer our services in the south-western states as well that will expand our participation to the west coast.
Arki Construction, Inc. has always delivered to its clients their projects under either of these three methods:
Design/Build
General Contracting
Construction Management
We now are offering the following services as many of our Clients and the market demanded. These additional offerings are:
Consultation
Pre-Construction Services
Post-Construction Services
Please click on any of the services listed above to learn more about them.
In addition to the above, Arki Construction, Inc. has engaged in a strategic affiliation with Capital Nest, a commercial real estate brokerage firm. The benefits are we can now offer certain Clients the benefit of sourcing out site selections for their next projects, commercial space availability for retails and tenant Clients and feasibility and due-diligent studies for any other potential sites under consideration.
Please be sure to ask about an introduction from any of our staff to our affiliated team members at Capital Nest.
Arki Construction, Inc. has been known for its quickness in response time and high-level of availability to its Customers, Sub-Contractors and Vendors alike. We have empowered all of our staff with smart phones and mobile devices that keep us all connected and synchronized internally and externally serving you well. Many have come to learn how easily accessible we are and for the rare times that we are missed, the response time is second to none whether it is via phone or email. Try it now, Contact Us and receive an quick response to any of your questions or needs. We look forward to hearing from you.
Arki Construction, Inc. has always recognized the importance of Technology and staying current if not at the edge of its advancements to keep our competitive edge and improve our performance. The Construction Industry has not evolved much over the years, however is had adopted to the new technological advances put in its path. In addition to building green and minimizing our Ecological Footprint we leave behind, Arki Construction, Inc. is keeping with the latest technology and development of the Building Information Modeling (BIM) among many others.
Technologies that we take interest in and track are:
BIM – Building Information Modeling
The US Green Building Council
Revit Architectural Design
Mobile Technology
Working with Arki Construction, Inc. is hugely rewarding and effective as we have come to utilize the benefits of these technologies among many others and pass these benefits to you, our Customers.
Re-Brand
We have re-branded. Learn more about our new look and the changes below...
Contact Arki Construction, Inc. for a more in-depth packet of information. One can be sent to you via a PDF file or a Hard Copy packet complete with additional qualifications for your review and consideration.